OMNI-channel personalization in kids goods retail chain "Korablik"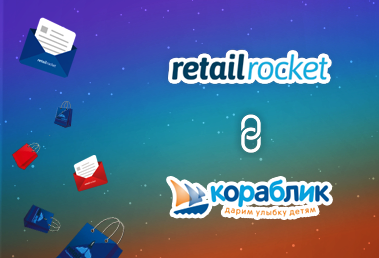 "Korablik" is a large retail chain selling children's goods online and offline in 170+ stores. Retail Rocket (multichannel personalization platform) together with "Korablik" marketing team launched a challenging project. We were going to set up a personalized omni-channel communication process with offline customers based on their actions in stores.
How Retail Rocket automated customer communications
Omni-channel retail allows you to achieve seamless integration via all possible channels: shopping in the store with a home delivery, online order with in-store pickup, etc. The key to this is that customers should feel equally convenient using this or that way to shop for goods. Today everyone can buy products in brick & mortar store and choose home delivery, and tomorrow — opt for an online shopping and in-store pickup. It's all about consistency and integration.
We started a personalized campaign based on the purchases data collected in physical stores. About 60% of these were made using loyalty cards. Thus, we used this data to link online user and their offline purchases.
After buying goods offline our customers would receive an e-mail which could contain the following:
personalized recommendations;
products related to the purchase;
next best buy offer prediction;
brand new goods from the categories customer was interested in;
products of day-to-day demand (diapers, food, etc.).
Here is a sample e-mail with recommendations sent after customer made a purchase offline: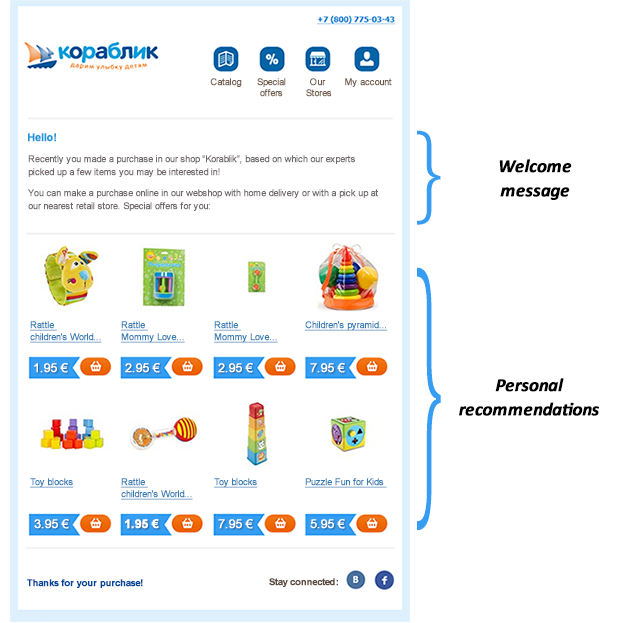 E-mail Campaign Results
Large retail chains have a huge number of offline customers and dozens of thousands transactions per day. Based on these transactions we can send much more e-mails than related to purchases in the online shop.
Depending on the product category, from 10% to 20% of customers, who made a purchase offline and then received a personalized e-mail, visited the website by clicking a link in triggered e-mails. According to Google Analytics, for 17% of customers this is the very first time they visit the website, and it means thousands of new clients for the online shop! The average conversion rate for this campaign was 1.3% for last-click attribution. Overall post-click conversion rate was about 5%.
By sending personalized recommendations, we generate more demand from the loyal audience, and that also adds to the profits made via other channels.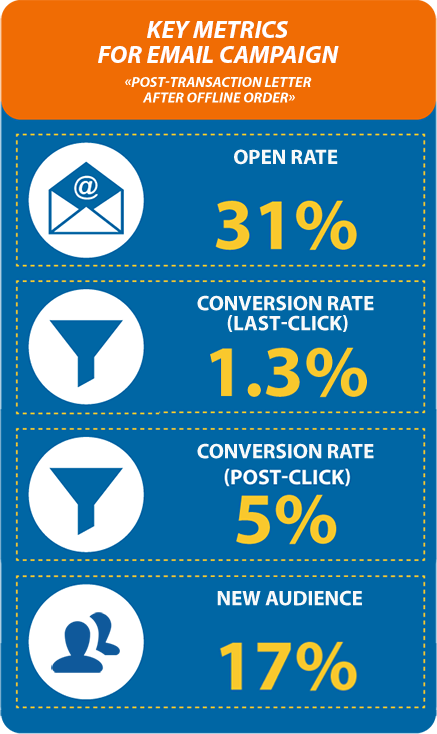 What's more, we analysed the campaign using different attribution models and discovered an even more interesting point. Traffic attracted via this channel generates approximately 4 times more transactions, because visitors later return via other channels. Thus, in addition to the direct sales Google Analytics attributes to the e-mails, after a while customers came back to the web-shop from other sources and made purchases.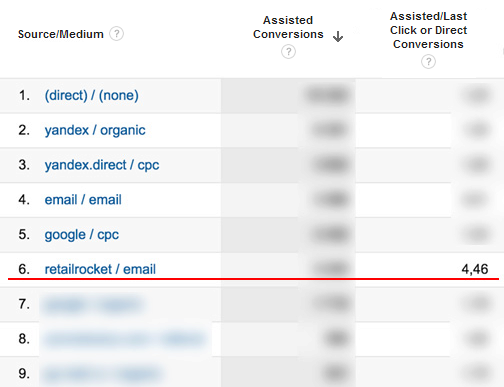 Indeed, this is a true OMNI-Channel: our customers place an order in brick & mortar store and then visit web-shop, thus, they generate additional traffic for the website. After that, they make a purchase online and opt for an in-store pickup in the very same store where they made the first purchase.
It is a full OMNI-Channel loop: customers' experience is consistent and continuous. Why would they go and look for any other retailer if they have all they need and — what's more important — how they need it in one integrated online and offline chain? As a result, they stay with your brand instead of switching to other retailers.
About "Korablik"

"Korablik" was started in 2000 as a single offline kids goods store. Today there are 170+ stores.
Online shop korablik was launched on May 15th, 2012. Implementing an integrated business model, the company opted for OMNI-Channel approach for sales, which provides customers with seamless experience via different online and offline channels.
"Korablik" comments: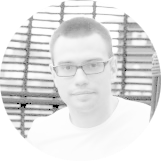 "E-mail with recommendations after online purchase is a well-known tool to increase sales. Together with Retail Rocket we've been thinking about it and came up with the plan. Why don't we try the same approach in offline retail? After integration, we got a decent result that satisfied us. Personalized recommendations is a great way to remind a customer about you. Key performance indicators, e.g. Open Rate, Conversion, Revenue Share, etc., are comparable to the results from other channels. One drawback of this channel is that it is challenging to expand. This is why we are planning on optimizing it using omni-channel analytics rather than on increasing traffic."
Paul Gerda, Head of Digital Marketing at Korablik
Retail Rocket comments: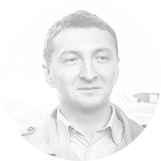 "Personalized recommendations based on data from offline purchases is a great tool to increase Lifetime Value and Retention Rate, and it also allows you to work on other key metrics.
Retail Rocket platform includes all necessary tools to implement such a campaign quick and easy with any type of OMNI-Channel retail company!"
Nikolay Khlebinsky, CEO Retail Rocket